Link to the Films & Photo Pages
Team : 26ATŘ47 Darran
and son's 26AT193 Ryan ( 9yrs old ) and Sean ( 15yrs ) no callsign.
Main Story

Even though our annual holiday to the Balearic islands had been booked along time previous, I'd only decided to take some radio equipment two days before departure. The main pieces of equipment would consist of an iCOM iC-706MKIIG, SEC Switch mode PSU, an old 5/8 Vertical and a couple of dipoles made by 26AT066 Russell ( tnx pal ).
After our flight was delayed for four and a half hrs we finally arrived at our hotel on the 3rd of July 05 at 05:20am in the holiday resort of Portinatx on Ibiza Island. While Emma ( the xyl ) unpacked our clothes etc,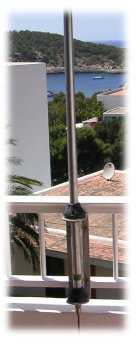 I helped and did my bit, I erected the vertical antenna which was up and in position within 10 minutes :). The radio and PSU was unpacked a few hrs later and I started to log stations at 10:07z, first in the log was 47PL122. Whenever I turned the radio on in that first week band conditions were great, always a mini pileup, the callsign which was Authorized was 49AT/E-Ř23, after a few short sessions they were over 300 in the log.
When I first decided to take some equipment on holiday, I had the idea of activating a small island / rock while the family was on an excursion trip out of the resort, of course the xyl didn't know my intentions, but my iota plan's turned out to be more fruitful than I had hoped or anticipated.
I knew there were a couple of little islands just outside of Portinatx bay ( Xarraca E-447 & Rencli E-1Ř2 ), but before I could seriously plan an activation, I had to find a couple of things i.e a car battery or generator and someone with a boat who was willing to take me to one of these little islands.
On the second day of our holiday I hired a car with 2 intentions in mind :
1) To Find a Car Battery
2) To investigate an small Island right at the other side of IBIZA.
Even though Portinatx is not a small resort, it turned out to be impossible to find a car battery, I must have asked at every shop, I must have asked every English speaking person where could I get a battery, but no luck.
Anyway the following day we drove to a small resort called Cala Tarida which turned out to be really nice, fantastic beach with beautiful shallow blue sea, ideal for families / children, GREAT ! that's perfect, the XYL and the kids can have a day on the beach while I active Illots de Cala Tarida :-). On our journey from Cala Tarida I saw a few Motor Garages where I might be able to buy a 12v Car battery. After 97 km we returned back to our hotel.
The following morning the hire car had to be returned, but I needed a car battery, so Ryan and I took a small detour from the hire company which was only 100mtrs away and drove to two of the garages we'd seen the previous day, after another 47km we returned back with a new 45ah 12v battery. when Ryan and I finally returned back to the hotel we were locked out of our room because Emma ( XYL ) had gone to the pool, I wish I had my digi camera with me when I walked up to Emma at the poolside with the Battery under my arm and asked for the room key hihi, her face was a picture, I told her I'd explain about the battery later !.
So I'd got a battery, now I needed to find someone with a boat which could take us to one of those islands in the next bay.
While I was buying some postcards, I noticed quite a few of them had pictures of what looked like a largish island to north of our resort, I asked a few locals and was told if I walked out of the resort ( northbound ) and just carried on walking I'd come to a small port with a restaurant, a couple of bars and shops where I could ask there.
Later that day we all had a walk, I told Emma lets have a walk out of the resort and see what we find, as a matter of chance we walked north and after about 20 minutes we came to the small port which I was secretly looking for :-).
I asked at one of the beach bars is there an island just off the coast, but no one could understand what I meant, so I showed them the postcard I'd bought earlier, an old local guy said something but I couldn't understand what he said, he got a pen and he wrote on the back of the postcard " Punta Galera ", I looked on the list I'd taken out there with me of Islands around Ibiza and instantly found " Punta Galera " with the D.I.E Reference number of E-446 !. I quickly sent a SMS message to Pep 49ATŘ2Ř and he confirmed it was indeed E-446.
That was it, Punta Galera Island went straight to the top of my activity list. On the postcard it looked like the East side of the island was very close to the mainland and we wasn't far away, so while Emma went shopping. Ryan, Sean and I went looking for the islands nearest point to the mainland.
After about 30 minutes we were finally stood on some rocky headland looking out to Punta Galera Island. Even though on the Postcard the gap between the mainland and the island looked very close, in reality it WASN'T :-(. The shape of the mainland and that side of the island created like a tunnel or funnel effect and the sea was VERY VERY rough there, the water off the med hit this 70 or 80 mtr gap between the island and mainland and was creating these high breaker white waves, we had no chance of crossing there, not even with a boat. I told the kids we'd got no chance and told them we'd better get back, I could see their disappointment, I knew at that point they were has interested as me to get on that Island.
On the walk back to our hotel ( Ryan especially ) was showing real interested in putting Punta Galera on the air, Sean my older son was showing the first signs of being interested in 11m radio :-). That night we decided to do our hardest to activate Punta Galera, forget Cala Tarida and the other islands we'd thought of, being so close to PG really wetted our appetite, we were desperate to find someone with a boat stupid enough to take us and our equipment to Punta Galera Island..
The following day we'd decided to ask all the boat owners on our beaches
( btw Portinatx has 2 beaches ) to see if they could help us get on PG. Apart from the private owners of boats they were 3 places where Speed boats were used. 2 of these were on either corner of the larger busier Beach, the other was in the far corner of the farer smaller beach which we used to go to everyday. The first one we asked on the main beach turned us down point-blank, apparently his boat was one of those fast speed boats designed for pulling water skiers etc, no good for going into rocky, swallow choppy waters. We walked over and asked the other company on the other side of this beach and after I explained that we wanted to be taken to Punta Galera, left there for 3 or 4 hrs and then picked back up, his response was very promising, " I don't see a problem " was his reply, while we was arranging the price, time, day etc his boss arrived, he explained in Spanish my intentions to his boss, but he said no straight away. Basically on the Sunday I wanted to active PG that was their busiest day for hiring out the boats, and he didn't want one of his boats out of action for 3 - 4 hrs when they could be earning money, I explained to the English speaking guy that once I was on the island he could return back to the beach and rent out the boat as normal, then pick me up at the end of the day, but there was a language problem and the boss could not understand he'd make more money by hiring the boat out while I was on the island, the boss got quite heated with the younger guy, not wanting to get him into trouble I retreated and thanked them both for their time.
Our last chance was an old guy which hired out Motor boats and pedal boats on the small beach we visited everyday. You could always find him sat under an umbrella all day every day right at far corner of the beach hiring out his equipment, I don't think I ever saw him leave his chair, I didn't hold much hope of him understanding me never mind him helping us with our quest.
When I walking up to him I had to bend down and look under his umbrella, he was sat with a young woman which luckily spoke a little English. I went on and explained that I wanted to go to Punta Galera, left there for some hours and then be picked up, the woman talked to the old guy and he instantly said " si si no problemo " ! !, brilliant, we'd found somebody crazy enough to agree to our request. I arranged to go on PG the up and coming Sunday.

So the plan was to active 49AT/E-456 Cala Tarida Isl on Saturday 9th, and Punta Galera Isl on the 10th the following day. Sms's were sent to 13ATŘ11 Matt, He obtained authorization from 084 Giorgio ( mni tnx Matt for your help ).
So that was it, all was in place, as long as the weather stayed good, and the old guy with the motor boat kept to his word, two new islands would be active on the up and coming weekend.
As the weekend grew close, all three of us couldn't wait for Sunday when we'd do PG, there was something about Punta Galera Isl, after some thought we decided to change our plans and activate PG first, and if the 12v battery was still ok, we'd do Cala Tarida Island which was 47km away the following day on Sunday ( this turned out to be a good decision ! ). Sms's were sent mentioning our change of plans and again authorization was received re the callsigns and date changes etc.
I think the main reasons for our plan changes was the challenge, Cala Tarida Island is a smaller island close to a lovely beach, tourists go on the island to sunbath, dive etc, its wasn't much of a challenge, where as Punta Galera would be much tougher, only accessible for us by a Motor Boat, it would be much more of an adventure for my sons. Not only that, we had no idea how long the 12v Battery would last, what a nightmare it would have been if we'd have done Cala Tarida first and the battery was dead after, I'd have had to hire another car and buy another battery :).
Saturday morning soon arrived and our excitement started to increase, I'd arranged with the old guy ( which name turned out to be Vicente )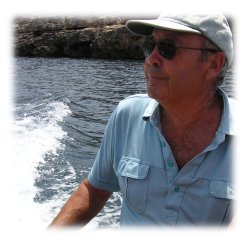 with the motor boat to take us to Punta Galera at 12:00pm local time. I'd already got all the equipment ready the night before,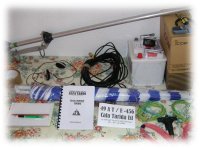 We set off from our hotel approx 10:15am with all the gear to the far beach. it's a far walk to this beach, especially when your carrying a canvas sports bag with a bloody car battery in it !.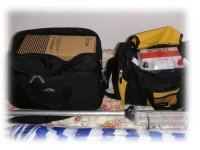 Sean carried another sports bag with the boxed iC706 and a few bits and pieces, Ryan had the easier task of carrying the vertical antenna with our umbrella taped to it.

We arrived at our usual beach spot around 10:35 and had planned to catch a bit of sun, I was worried that Vicente had changed his mind about taking us because he wasn't in his usual place at the corner of the beach, I received a sms message from Roger 19AT477 asking if all was ok, I was having problems sending sms's, so I decided to phone Roger from the payphone right at the side of our beach, I'd been on the phone a couple of minutes with Roger when suddenly Vicente came around the corner of the bay in his motor boat, I told Roger this and he could hear the motor of the boat has it drew closer. I said my good byes to Roger and walked over to the old guy, as he was getting out of his boat, I looked over to him and gave him the thumb's up and pointed out to sea, he returned with the same gesture !, great all was set.
Even though we'd arranged to leave at 12:00 midday, we couldn't wait any longer, I was receiving messages from various friends mentioning the band was in decent shape, some were asking why we wasn't active, so I told Ryan I was going to see if Vicente could take us 1 hr early, this wasn't a problem and within minutes we were packing our radio gear into the Zodiac Motor Boat.
At this point, I started to film various parts of this and our following Dxpeditions, so I'll let the camera do some of the explaining. In all I took 1.6gb of photo's and video footage, this was to be used to help validate our activations, I have used a few minutes of this footage to produce four short films for anyone interested, there is one film for each activation, these films were not intended to be used as proof to validate our activations, I've put them online just for a bit of fun really, hopefully the clips will show how much we thoroughly enjoyed putting these islands on the air.
Ok, here are the short films I've produced, they are not good quality, its the first time I've attempted to do anything like this, once you've watched the films please come back to this page to read the end of the story
Link to the Films & Photo Pages
So you've hopefully seen the short films, I told you they wasn't good quality.
The amount of contacts or other radio factors came less important to us as the activations went on, it was the sense of adventure for the boys which gave me the most pleasure, seeing the kids enjoyment by taking part in the planning / organization etc was great. This holiday, and our iota activations has got Ryan and Sean really interested in Islands, in fact they've already started planning their next island activities, hopefully I'll be involved at some stage, probably when its time to foot the bill :-).
Thank you for reading this ( long ) story, I want to to close by thanking a few friends which helped us along the way :
13ATŘ11 Matt
47DX1Ř1 John
26AT111 Mark
26AT118 Mark
49ATŘ2Ř Pep
19AT477 Roger
1AT1485 Claudio
Regards, hope to hear you from our next adventure !.
Regards, Ryan, Sean & Darran.