Back to film Index :


Our Cala Tarida Island activity was on the 10th of July, the day after our fantastic day on Punta Galera Isl.
I can't remember the time exactly, but we all left Portinatx by hire car at approximately 10:15am and drove 47km to the lovely small resort of Cala Tarida. When we'd visited Cala Tarida 6 days previous,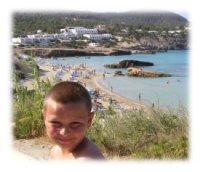 we'd parked in the centre of the resort and had to walk down what seemed hundred's of steps to the beach.

While there I noticed a car park at the back of one of the beach restaurants, on our return to Cala Tarida I found the dirt track which took us to that restaurants car park, Great I didn't have to carry our Car battery down all of those steps, I still had to carry it for about 10 minutes to the beach, but the distance was much less than if I parked where I did before.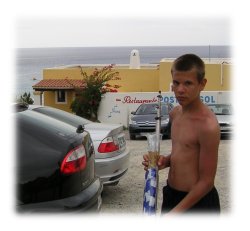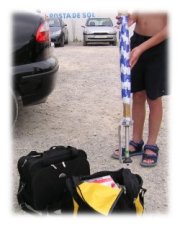 Here is a couple of photo's took in the " Posta De Sol " Restaurant car park.


To be honest Cala Tarida turned out to be our least favourite of the islands we'd visit on our Balearic tour, we still enjoyed putting this island on the air, but it didn't have the sense of adventure like Rencli or PG due to the fact CT is easily accessible which meant the island was used by sunbathers, divers etc.
Antenna position was much easier than on Rencli :-) , I simply taped the vertical to a piece of wood which was perfectly placed right above our chosen operating site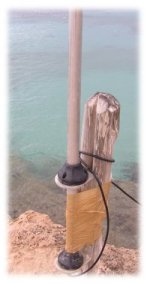 .
The weather had changed for the worse on this day, but luckily it didn't rain, it was very overcast but the temperature was still 27'c.
We received strange looks from a few people when we started to unpack the equipment and started erecting the antenna.
Our operating site was soon set up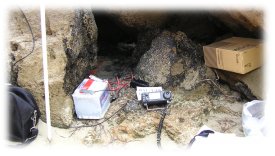 We were on the air very soon after and the pileup on my initial CQ was big, first in the log was 14AT675 Laurent.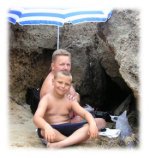 Even though the pileup was big, it soon dried up and once I'd got to about 50 in log it went very quiet, I had to keep Cqing on .555 which was not good for the life of the car battery. I'd been active for quite a while and I didn't think we'd have much chance of working the minimum of 100 stations to make the activation valid for awards etc.
After a while I noticed that 1AT1485 Claudio was advertising our activation on .555 and proceeded in sending stations up to .570, many thanks Claudio for your help, much appreciated !.
A while later I received a message that Emma on the beach had had enough and was ready for leaving, but I only had about 80 logged, I told Sean to say I wouldn't be long and slowly but surely got close to the magic 100. Roger 19AT477 had sent a message on cluster mentioning that we only needed a few more in the log, suddenly I heard a young operator call which was logged instantly, I know it was a friends young son calling in to help me reach the 100, thanks for your help pal, I'll keep your identity confidential :-).
95, 96, 97, 98 entries in the log, once I logged the 99th station, they was a little mini pileup, I'm guessing a few stations wanted to be the 100th and last in the log
( hello Ronny :-) ).

Once I'd got over 100 logged, I was just about to pull the plug when I heard my good friend 13AT011 Matt, he's the guy which helped receive authorization's for my activities, thanks for your help, really pleased you just made it into the log, 3 contacts later and 49AT/E-456 was qrt.
Here is the short Film of