After activating E-Ř23, E-446 Punta Galera and E-456 Cala Tarida Islands, we had no intentions of activating any more, we were pleased how things had gone and was more than satisfied, but a day after E-456 I started to get the urge to activate one more Island, I quietly mentioned this to Ryan and Sean and to no surprise they were just as eager as myself :-). I had 2 main concern's about doing a 4th activity :

1) Would the car battery last 5 or 10 minutes of transmitting never mind 2 or 3 hrs for an activation.
more importantly :
2) How would Emma react to the news we were planning on leaving her again for a full day to put a new one on the air !.
I decided that night to bring our intentions into conversation with Emma while we were having a nice meal on Monday night ( we were flying back home Saturday ). I was expecting a little QRM but she just said if I did it on Friday it would give her a chance to pack all our suitcases for our return journey home, great, where's my map and Island List !.
I knew the exact Island in mind, it was Rencli with Die Ref N# E-1Ř2, this island is just about visible from the main road which takes you into Portinatx, when I hired a car the previous week I'd seen a signpost saying " s'llot des Rencli ". Of course I stopped and had a quick peek at the island.
Now we'd decided to do this Island on Friday, all I had to do was ask Vicente our boatman and also receive authorization for the callsign. Vicente was happy to take us and 011 Matt received authorization for the callsign 49AT/E-1Ř2 Rencli Isl.
The following day ( Tuesday ), while the rest of the family was out of town on a excursion, Sean and I decided to have a walk and investigate Rencli.
Even though it was only a short drive out of Portinatx, it was hell of a lot longer on foot, we set off at 10:05am,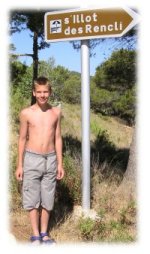 we arrived at the signpost 40 minutes later, it seemed a lot further walking in the baking hot sun.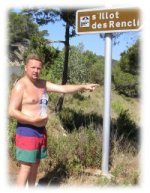 Off the main road was a dirt track which took us down to the beautiful little beach of Rencli, all that was there is one Cafe / Restaurant, a couple of small boat houses and a couple of people sunbathing on the rocks.


We spent about an hour at Rencli, we took some photo's and video footage. we could see landing on Rencli should not be a problem like we experienced getting onto
Punta Galera.

Once we'd had a good look around, we had light refreshments at the Cafe and started our long walk back to Portinatx.
My only concern was the car battery, even though I'd been very conservative with the output power of the iCOM ( abt 30w ) on both E-446 & E-456 , I didn't hold much hope of the battery lasting a full 3 hour activation. Once we knew we were going to Rencli, I telephoned Pep 49ATŘ2Ř on the Tuesday to try and source me a Battery Charger, Pep did a great job and found me a Charger, unfortunately it was in San Antonio right on the other side of Ibiza Island, I thought about hiring a car agn ( for the 3rd time ) but there was no way of returning the Charger, so that wasn't really an option. From Tuesday morning to Thursday evening, we did our very best to find a Charger in Portinatx, I even asked our Hotel staff and waiters in the various restaurants we used, but no-one had a Charger for me to buy or borrow.
Friday morning soon came around, just like the week before I had to carry that damn battery to the far beach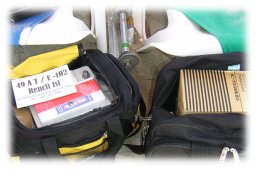 We'd decided to be active a little later in the day for this activation, mainly because propagation seemed to be better in the afternoons, plus with us going on a Friday, going later would give chance for operators to finish work, rush home and work a new island.
We met Vicente at our arranged time and packed our equipment in the boat,
departure time was about 14:00 local time, the boat journey took approximately 30 to 35 minutes. We landed on the exact spot which we'd located a few day before on our walk to Rencli beach.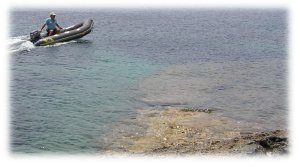 Vicente dropped us off and disappeared in the distance.
In the photo on the right, what looks like a nice piece of sandy beach is in fact very slippery razor sharp rocks just below the surface of the Sea.
Getting on the island was straightforward, all it needed was care under foot not to slip on the sharp rocks.
Hey, we're on another new Island !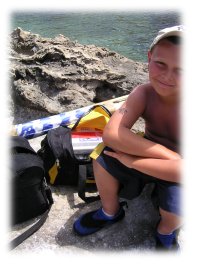 .
This Island was nothing like Punta Galera or Cala Tarida, there was no shade what so ever, it was a scorching hot day, it was just like standing on a hotplate. Because most of the island was only near sea level, the surface of the island was covered in salt pools where the sea water had hit the island, the the water had evaporated and left thick salt deposits on about 80% of the island, this caused big problem with my eyes towards the later part of this activity, by the end I could hardly open my eyes.
Anyway once on the island the equipment was set up, the only problem was I didn't take anything to guy down the antenna, finding a place for the antenna seemed impossible, we must have wasted 15 minutes trying to find a place for the vertical,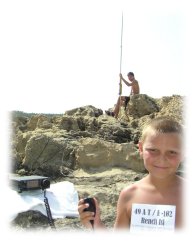 because time was ticking, the only solution was for Sean to physically hold up the antenna for every minute of transmission,
dedication or what !
I thought we'd find it hard to get 100 in the log due to my worries for the Battery, but in honesty, we reached 100 in the log pretty easy, I had my good friend 26AT111 Mark advertising our activity on .555, this helped a great deal ( cheers pal ).
All my efforts to find a battery charger turned out to
be unnecessary, the battery performed faultlessly
on Rencli !.
I made the mistake of not taking enough drinking water on the island, I'll know next time to take double what I'd took on Rencli.
Here is a couple of photo's of the operating site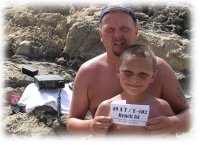 We were just about to start taking down the equipment when suddenly Ryan shouted Vicente's coming !, he was 30 minutes early !. I told Ryan to shout to Vicente
" 5 minutes ! ".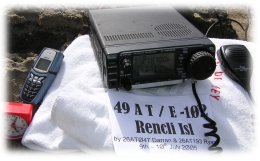 I basically told Sean to let go of the antenna which hit the ground, I threw him the screwdriver to start dismantling it. I quickly gathered all the small pieces of equipment, clocks, phone, sunglasses, pen's, pencils log etc and threw them in the radio bag. Next was to start packing away the radio, I wanted to unplug the power cable from the back of the IC-706MKIIG, but the radio was so hot I couldn't hold the radio for long enough to unplug the power cable ! !. Because the sun was on us all day, basically with the radio being black, it had attracted the suns heat and I couldn't believe how hot the radio had become, in the end I had to wrap a towel around the radio to hold it so I could unplug the power cable.
How the radio had continued to operate under that extreme temperature I've no idea, I suppose it's testament to these fantastic little transceivers. Before our holiday, I was seriously thinking about selling the Icom, but I'm not now, its part of the team, it'll definitely be with us on our next trip.
All equipment was packed away in record time and our friend Vicente closed in and
picked us up without any major problems.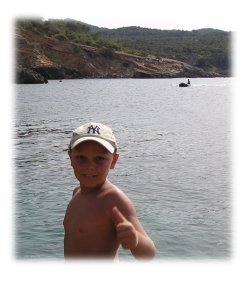 The journey back seemed to take a long time, probably because we were all looking forward to a cold drink.
On getting back to Portinatx, Emma was waiting for us with 2 x 1.5 litre bottles of ice cold water, I laid on a sun bed and proceeded in drinking nearly a full bottle.
Anyway that was Rencli done, the following day we sadly had to return home to England
Here is a short film of our Rencli activation